Instead, sell what they DO!
If you want to be a successful promotional marketing consultant, don't just sell promotional products. Anyone can pick up a pen or a pocket folder and tell a client that it comes in green, red, black or blue and move onto the next item. All too often, we see distributors and sales reps fall victim to this old trap. Are you consistently communicating how these marketing tools can help end users achieve their business goals?  Are you delivering creative campaign ideas and marketing strategies to help your clients solve a problem? These are great ways to show your clients the value of working with you.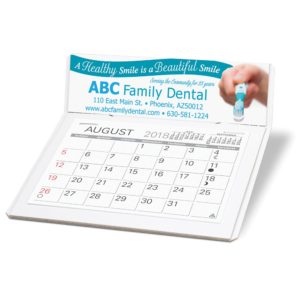 For example, this Warwick desk calendar is a marketing tool that communicates to your customers for 396 days! (Warwick desk calendars have 13 months so you can use the December top sheet to send early holiday greetings to your clients). Not only is this calendar perceived as a useful gift item, but it is also referenced 8 times a day, on average.  Because of this, the desk calendar keeps your business info visible with hundreds of brand impressions each month. How's that for ROI? The cost to keep your services top of mind all year is less than $0.01 / day.  Wouldn't you rather have your business card stay on top of the desk, instead of hidden down in a drawer or tucked away in a file folder, or worse– in the trash?  With Warwick calendars, your business will be the first place customers call.
Beyond the visibility factor, these premier desk calendars can also be used in creative ways to increase engagement with any business. Let customers know they can tear off last month's calendar page and bring it in for a 10% discount on their next visit. Our calendars have a fully customizable space under the pad that gives you extra room for a special message or campaign. Here are a few ways our customers use that space to add value to these calendars:
Ask customers to leave you an online review (include your links to Yelp, Facebook, and Google)
Include company contact info like phone numbers and emails
Highlight upcoming events like sports games, schedules, or holidays
Safety procedure reminders
Product info and price lists
Weekly specials or a basic menu for restaurants, cafes, bars and pubs
Reference charts or diagrams relating to the industry (dental diagram with teeth numbers, loan amortization chart for real estate)
Our new custom door hangers have the power to: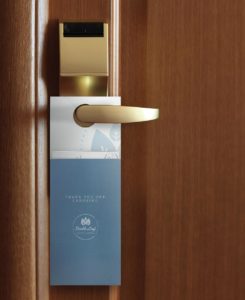 Introduce your brand & services to new homeowners in the neighborhood – great for real estate professionals, daycare facilities, schools, libraries, lawn care, gyms and spas, shopping centers, and beyond.
Deliver your message or special offer straight to the doors of your target clients, whether they're in the neighborhood, or staying at a hotel in your service area – great for restaurants, bars, local entertainment venues and tourist attractions.
Reach new audiences with your branding in a bold way that can't be ignored – great for advertising a grand opening, upcoming community events or local festivals.
Remind your target audience that you're just a phone call away – great for banks and legal offices, retirement communities, car dealers, mechanics, consultants, contractors and service providers.
Our Golf Event Folders & Frames will: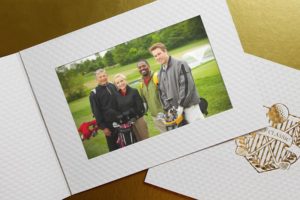 Add value by highlighting top event sponsors with a custom imprint of their logo in foil or full-color for additional brand impressions.
Extend your branding message beyond the golf outing with a memorable keepsake that will stay on display.
Present golfer portraits or action shots –  a personalized gift for your guests to take home, and a great way to protect photo prints.
Thank donors and participants for a successful event when you mail them out as thank-you cards after your golf fundraiser.
Instead of trying to just sell promotional products, focus more on what the promotional product does for your clients brand and business,  you'll build better relationships and you'll provide true marketing value. Sure, we pride ourselves on the quality of our made in the USA promo products and their versatile features – but today, we challenge you to sell what they DO – instead of what they are. We've got loads of other ideas for you, so feel free to give us a call at 800-383-7149 or reach out to us on Facebook if you need help with use cases for Warwick products with a specific client or campaign.