This year's trip to Las Vegas for Skucon and the PPAI Expo was an invigorating whirlwind. The energy was high, the speakers were vivacious, and the networking opportunities were bountiful. Mark and Catherine Graham introduced the Skucon theme of "getting comfortable living on the edge" — confronting our fears, taking risks, embracing new "scary" ideas, and engaging with new people outside our circles — all in the interest of growth. Here are some of our takeaways from this fantastic event.
So, What is "Living on the Edge," Anyway?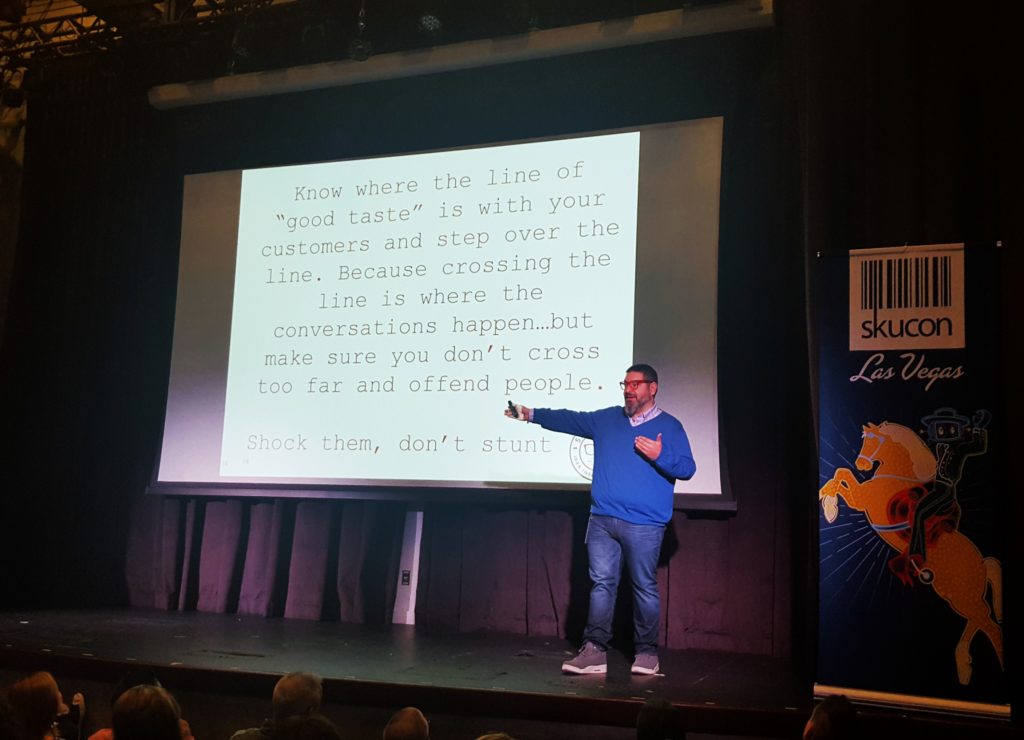 One of my favorite quotes was the sage advice from Saul Colt, who told us, "When you can't compete on others' terms, just change the rules." In other words, if you don't have the budget to allocate thousands of dollars toward a massive trade show display that's on par with your competitors' booths, then create a wacky and memorable experience within your means.
You could, for example, build a twister board on the floor of your booth. What better way to engage trade show attendees that pinning them down in a good old-fashioned game of Twister!  Then they'll be sure to remember your pitch and your brand. Convention-goers surely won't ignore a conspicuous bright yellow banana stand (shoutout to Arrested Development fans) or the 10-foot tall banana sign next to it. It may be off the wall, but it piques their curiosity. For those familiar with the TV show, this created a special, insider connection. It makes everyone else scratch their heads, and think. Saul reported that 65% of attendees who received a banana from this booth promotion visited the unique URL link on the sticker. Now that's ROI!
These colorful examples illustrate how to incorporate promo with "guerilla" marketing tactics to make your audience Laugh, Think, and Cry (or feel emotion) – which is Saul's three-part recipe to any successful and memorable campaign.
Differentiate Yourself  – Deliver an Experience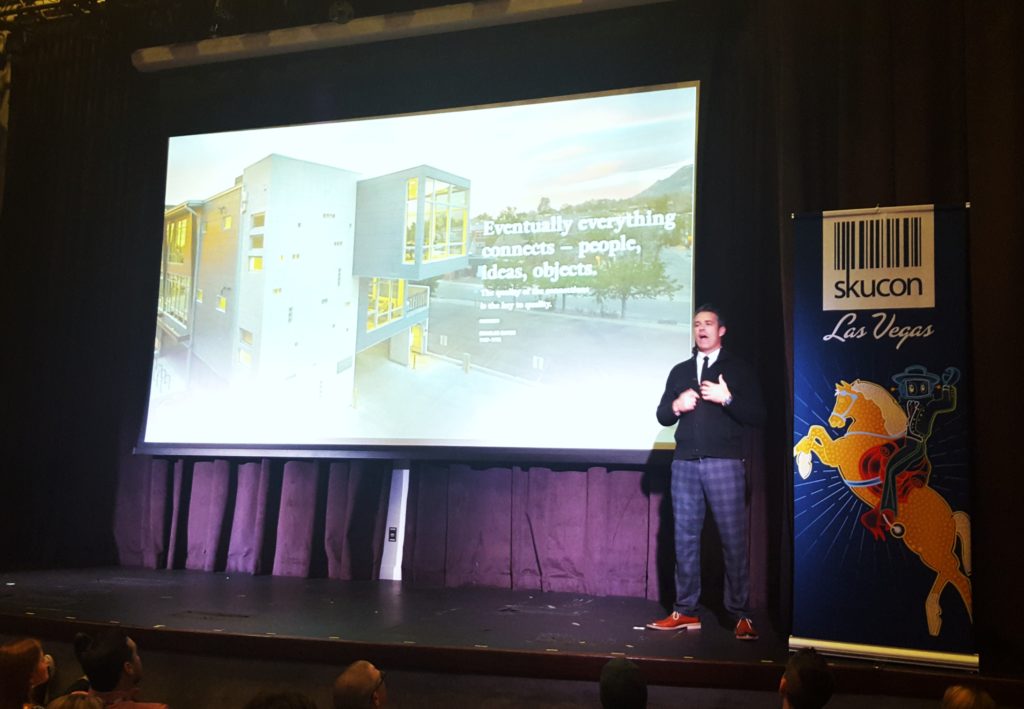 Ted Church with Anthem Branding challenged us to take a step back and really evaluate our own (and our clients') branding initiatives from a bird's eye view. A quick exercise: gather all of the promotions you've done over the last year and lay them out on your conference room table. Are they cohesive? Do they all work together to create a consistent brand message? Can you easily define that message? If the answer is no, it's time to re-think the experience you want to provide to your customers as a brand.
Not sure what kind of experience to give your customer, or how to do it? Just ask them! Saul Colt reinforced the importance of surveying your customers in order to reach them in the spaces where they are spending their time. For example, ask them:
What trade shows do you attend? (Make sure you're represented there)
What magazines or trade publications do you read? (Try targeted print ads)
What TV shows do you watch? (Reference these in subtle ways in e-blasts)
What blogs do you subscribe to? (Targeted online banner ads)
What kinds of books do you read? (To understand what their interests are outside work)
What podcasts do you listen to? (Place radio ads on these channels)
 When is your birthday? (Send surprise gifts)
The answers to these questions will help you create content, marketing messages, and a branding experience that's tailored to your audience. More importantly, it shows your audience that you see them as individuals, and you appreciate them, which is the best way to build authentic brand loyalty.
Create Authentic Content for a Niche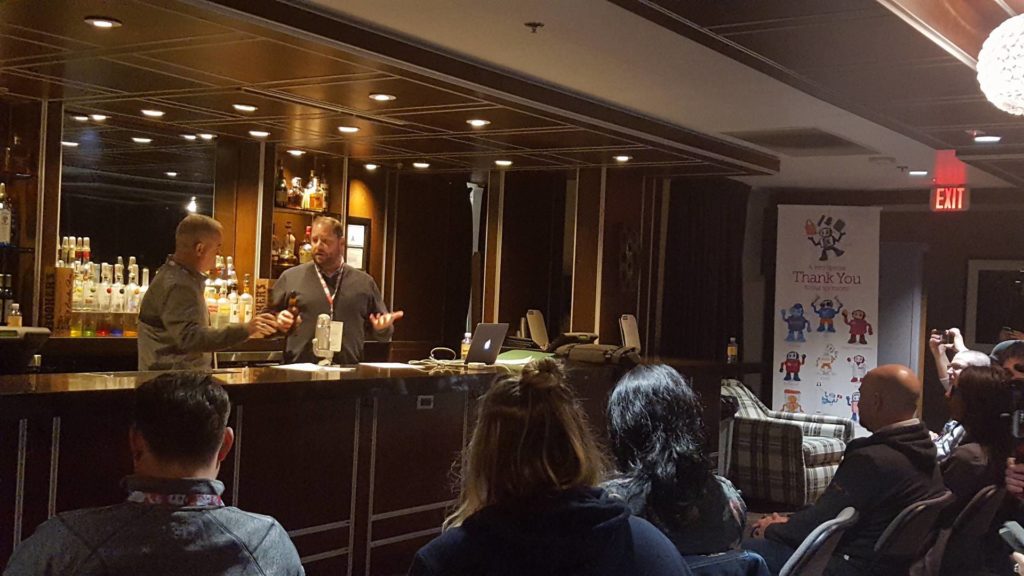 Bill Petrie and Kirby Hasseman walked us through podcasting 101 – and did their very first  Unscripted podcast in front of a live audience. Even if you aren't ready to create a podcast just yet, these tips are useful to apply across your entire content creation strategy.
Find a niche. The Promotional Products space is relatively open, so far, with just a handful of podcasts being created. Even within the promo space, there are plenty of niche markets to cater to. Along these lines, Saul Colt recommends to brand yourself as the industry leader for ______ (medical marketing solutions, or automotive promotions, veterinary advertising, etc.) People respond more favorably when they see a message that's targeted to their industry or line of work, and it helps you build trust and referrals within that niche.
When you're ready to create content, be sure to do it authentically. Keep it conversational and short (25 mins or less is ideal for keeping listeners' attention).
Broadcast consistently! Whether you're writing blogs, email blasts, social media posts, or producing podcasts, keep a firm publishing schedule. People will expect your content, and they may miss it if you don't have a regular schedule.
Advertise on all social channels! Share your content everywhere you can. On Facebook, Commonsku, LinkedIn,  Twitter, Pinterest, and beyond. Wherever your listeners and readers spend time. You can even turn your podcast content into blog and email content to maximize reach.
Eventually, you may even be able to monetize your podcast by getting sponsors involved. Just be sure to partner with relevant sponsors who are aligned with your messaging and your niche.
Prioritize Customer Service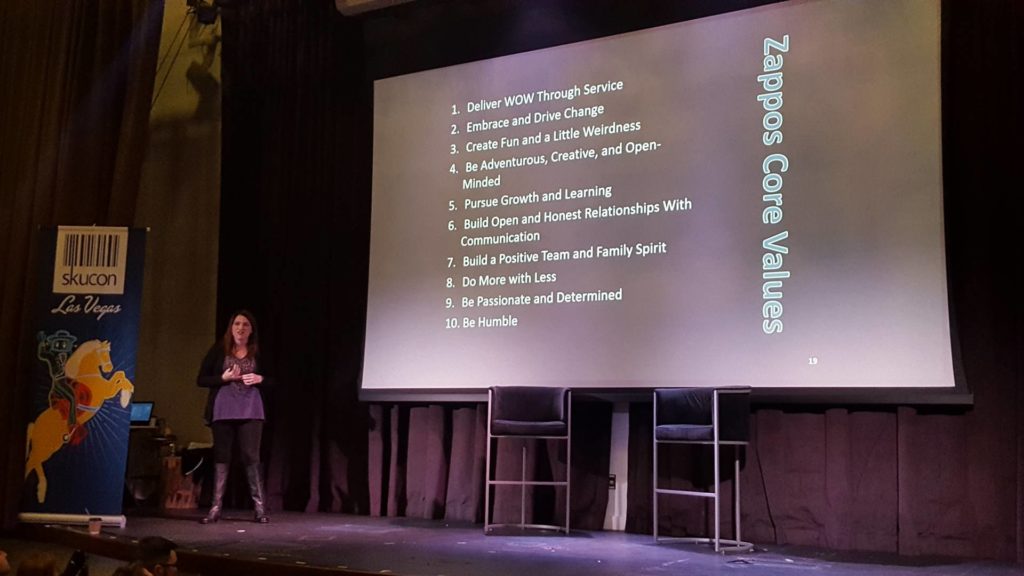 Sure, this is a no-brainer… but have you truly evaluated your own customer service practices, and encouraged your clients to do the same? Happy customers are your most effective way to ensure steady business growth. Jamie Naughton, Chief of Staff at Zappos.com shared the company's strategy for making customer service their top priority. Here are just a few ways Zappos incorporates customer service into their company culture:
Free shipping and free returns
365-day return policy
Phone number is at the top of every single page of our website
Call center staff available 24/7
Surprise upgrades (like upgraded shipping, or pizza, or a boquet of flowers)
No limits on call times or sales goals for their reps
Encourage employees to develop a personal emotional connection with each customer
It really boils down to easy communication, authentic interactions, and going above and beyond for your customers. Differentiate your brand by finding ways to do this within your own business, and help your end users do the same.  The  Zappos team attributes their legendary growth and success to their commitment to culture and community throughout their organization.
What will you do next?
So, do you want to grow your business, and enhance your brand (or your clients' brands) this year? Then I encourage you all to rise to the Skucon 2017 challenge: live on the edge. Push the limits of what you're comfortable doing. It doesn't have to be a monumental shift. Write down 3 ideas that scare you right now, and get to work tackling them. Start with one small and concrete action item.
Above all, don't settle for complacency. Move past the same old promotions, and brainstorm new ideas with your peers. Get risky, be daring, and go after that new idea. As Saul Colt says, "Try 100 things. See what sticks. Retire what doesn't." Don't be afraid to gain a new perspective. You may just discover an "aha!" factor that you needed to get to the next level.