Communication with your customers is a vital part of keeping them engaged with your business. Our award-winning custom business greeting cards can help you strengthen customer relationships, drive referrals and build loyalty in a genuine, personal way.  Give it a try today with these 5 quick tips from Warwick Publishing, your source for the best branded promotional products made in the USA:
1. Show them they're part of your family.
We all prefer to do business with the people who make us feel valued and appreciated. Take the time to let customers know they're part of your family with a handwritten birthday card. Because you remembered them, they'll remember you. Plus – sending a thoughtful card keeps your services top of mind, and can trigger referrals. Even if they don't need your help now, your customers might know a friend or family member who does! (Our custom printed cards, thank you cards and anniversary cards are also good options!)
2. Reward them for referrals.
Your best references come from your current customers.  When a customer takes the time to recommend you, sending a sincere Thank You card shows them they're appreciated. Include a $5 gift card to a local coffee shop to let them know their kind gesture did not go unnoticed! If you already have a referral rewards program in place, a greeting card is a great way to remind your customers about the benefits.
3. Share content they'd enjoy.
Keep an eye out for articles that may be of special interest to your customers.  Rather than forwarding web links to their email, take the time to print out an article and tuck it inside a custom business greeting card. It only takes a moment to jot a quick "thought you'd enjoy this!", sign your name, and seal the envelope. This shows customers that you know them as people – not just accounts. Our full-color digital printing allows you to personalize both sides of your business greeting cards with your company logo and custom artwork to match your branding.
4. Be a resource when they need you.

Recognize special life events like a wedding, the arrival of a child, retirement and graduation with a congratulatory greeting. It's a great way to reconnect with customers, and remind them of the value your services bring. They may not be thinking of buying right now, but sending a card reassures them that when they're ready — you'll be there to help.
5. Ask for feedback. 
For every customer you serve, there are many others out there in need of your products and services. Send members a custom printed greeting card that says "We Value Your Opinion" and ask for a testimonial to use in print and online marketing pieces. Success stories and positive feedback from your current customers builds trust for your brand, and helps attract new business.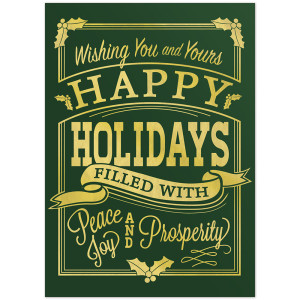 Bonus: Send holiday cards to employees, partners & clients.
Holiday cards are a great way to thank your team for all of their hard work during the year. Include a personal handwritten message for each staff member thanking them for their dedication on a specific project. Sending a personalized card lets your business partners know that you're thinking of them during the holiday season, and shows genuine appreciation for their support of your business.
Include you clients and customers on the holiday card list, too. Add a special discount coupon or offer code for a free gift they can use in the new year on your products or services. This provides extra value and keeps your company top of mind. Order your business holiday greeting cards by October 1st, 2016 for our early pricing discount!
Have another idea to strengthen business relationships with greeting cards? Let us know in the comments below, or share it with us on the Warwick Publishing Facebook Page!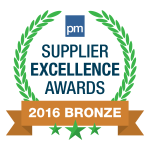 PS- We're proud to announce that we've won the Bronze Supplier Excellence Award for our 2016 business greeting cards from Promo Marketing Magazine! Thanks to all who voted for us.
The annual Supplier Excellence Awards give distributors the ability to vote for their favorite suppliers in more than 40 hard goods and apparel categories. After thousands of votes were cast, we were able to compile a list of the top suppliers in each major promotional product category.