As a manufacturer and promotional products supplier, being environmentally responsible is a top priority for us. In fact, we take extra steps in every area of production to reduce waste and recycle our manufacturing excess and byproducts. From paper scraps to plastics, metals, oils and solvents, Warwick is dedicated to a holistic recycling culture and bringing you eco-friendly promotional products. In honor of Earth Day, we want to give you an inside look at our team's environmentally conscious efforts to keep production "green" at Warwick Publishing.
For starters, we aim to make many our promo products out of recycled materials and renewable resources. That all starts with selecting our raw materials. "Recycled paper content is something I'm always looking for when buying our materials," said Sandy Peterman, Purchasing Manager at Warwick. "It's important to a lot of people, including our customers," she added.
The paper mill we partner with is highly focused on sustainability as well. They have their own water treatment center which pulls water in from the local river to be used in the paper manufacturing process. The filtration system at the paper mill's facility results in cleaner water output than what originally came into the mill. They also recycle their manufacturing excess in-house. If there's paper waste leftover after a run, it goes back into creating another batch of paper.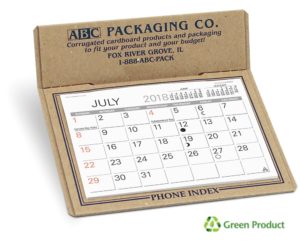 Larry Lehman, Plant Manager at Warwick Publishing, oversees the recycling efforts surrounding the production of our products. "Our raw chipboard is made from recycled material, and we use that in our desk calendars and many of our photo frames," he said.  Our black portrait folders are also made from sturdy 20 pt. embossed recycled paperboard, comprised of 100% recycled material (80% of which is post-consumer waste). Just look for the "green product" emblem on our website or in our catalog- there are plenty of eco-friendly promotional products to choose from!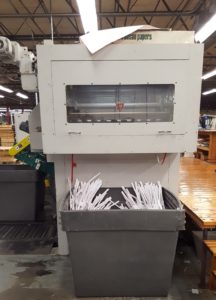 But we don't stop there. We carry our eco-friendly efforts into the production of our products, too. "We always maximize each sheet of paperboard so that we cut out all that we can on each piece of paper," Larry added.  Each machine in our plant also has a recycling bin accessible. On several of the machines, the unused scraps drop straight into the bins and are ready for recycling. Different types of recyclable materials are divided up into separate bins, including steel bands, plastic bands, shrink wrap from shipping, corrugated boxes, chipboard, glossy white paper, glossy dark paper, and flat white paper. "We even have a company that comes to pick up our dirty oils and solvents," Larry added.
At Warwick, we've been manufacturing with the environment in mind for a long time. "We have always been a company with a green attitude," said Rob Paschal, CEO. "For decades, our primary component in our products has been recycled chipboard. Years ago, we used to bale our scrap and return it directly to the board mill for reprocessing."
Another big area where we recycle is with our electronics. As we make room for new and improved technology, our old computers and printers are taken to a local electronics recycling facility.
At Warwick Publishing, we're proud to share that our dumpster is rarely full. "There's very little garbage that makes it to the landfill. We really do a good job of sorting and recycling most of our waste," said Larry.
Visit us at www.WarwickPublishing.com or get in touch to learn more about our eco-friendly promotional products!