Spring is here, and that means it's time to start planning summer promotions with your clients! What better way to get your client's brand some extra exposure than by having a presence at an event? There are lots of outdoor festivals and fairs that take place in the spring and summer months, and they provide a plethora of opportunities for brand exposure and engagement. Now is the time to start your event marketing research, and turn your client's brand into an experience. Here are 5 tips to get started:
1. Start locally
Think about your own hometown. What are your favorite things to do in the area over the summer? Are there some well-known annual events that bring in a lot of patrons each year? In St. Charles, we have everything from the Kane County fair to the annual Easter Egg hunt at the Park District, Scarecrow Fest, and the Tri-City Craft Brew Festival. In Geneva, Swedish Days and Festival of the Vine bring in massive crowds each year. Brainstorm list of local events that you've personally been to. If you think any might be a good fit for your clients, track down the contact info for the event coordinators. Reach out to learn about sponsorship opportunities or booth availability. Then, schedule a time to meet with your clients about your ideas. Prepare a media kit binder or digital file with the package options and sponsorship levels ahead of time.
Summer festivals
BBQ competitions, Ribfest, Chili Cookoff
Car shows
Parades
Heritage festivals (Swedish Days, German Fest)
County fairs
Races (marathons, 5k, fun runs)
Fundraisers
School events
Sports games
Conferences
Arts and craft fairs
Golf outings (check with your chamber of commerce, local business associations, park district, non-profits, and city or township)
Business expos
Chamber of Commerce open house events
Music festivals ( Bluesfest, Jazzfest, )
Folk festivals
2. Partner with a non-profit
What causes are important to your clients? What charities matter most to you and your staff? By teaming up with a local non-profit at an event, you can establish a great relationship that's mutually beneficial for both organizations. Plus, people like to do business with companies who are actively involved in charitable causes. This is a great relationship builder and networking opportunity for yourself as a distributor, and for your client as a brand. You also have the added benefit of cross-promotion. Leverage the non-profit's marketing channels such as social media, email lists, direct mailing lists, bulletin boards at their office or facility. This expands your reach and creates additional opportunities for cross-promotion with another set of consumers who are interested in your charity.
3. Pick a theme
Every event becomes more fun when there's a theme. Whether it's a tiki luau, a retro Gatsby affiar, a swashbuckling pirate party, Hollywood red carpet gala, or wild west rodeo, your guests will enjoy playing along at the event. Be sure to bring some props and decorations that fit your chosen theme. Plan how your booth space will look, and how your messaging and activities can revolve around your theme.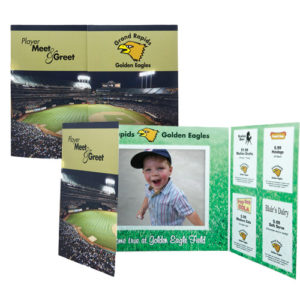 4. Create a memorable experience with promo!
This is a no brainer, of course — but try to think outside the box with your event giveaways. It will be a busy day with lots of other attractions and vendors competing for attention, so plan early to have several ways to stand out. Don't just hand out pens and paper fans to all who walk by – think of how to engage people and get them to interact with you and your brand! Offer an incentive to attract traffic, and encourage them to stop at your booth or visit your business after the event.
Draw patrons in with strong signage, and powerful, yet welcoming visual display. Don't be afraid to get a little wacky or weird. Make people curious. Make them think, and scratch their heads. How can you turn this opportunity into a memorable experience? Try a fun game (Twister, anyone?) or a bizarre visual display, or an enticing contest. Consider incorporating a photo booth. Everyone loves selfies! Send your guests home with a memorable, branded photo keepsake with your branding.
5. Get the word out early 
Start promoting your involvement with the event as soon as you have the date confirmed. Even if you don't have all of the details finalized, schedules fill up fast in the spring and summer, and you'll want to make sure people know about the event as early as possible. Create a Facebook event and start inviting friends and colleagues online. Ask employees to share with their networks, too. Tease your audience with a special offer if they stop by your booth at the event. Create a clear call to action and outline the big ticket highlights of the event – especially if there with be a contest, giveaway, musical performance, or celebrity appearance. Send out save the date email blasts and postcards to increase awareness.
We hope these event marketing tips get some ideas flowing that you can present to your clients! Exposure at a summer festival or outdoor event could be just what they need to boost business. Have another idea for a successful event promotion? Leave us a comment below, or contact us on Facebook!
Be sure to visit Warwick Publishing on the web to browse custom photo folders, frames, promotional calendars, greeting cards, certificate holders, presentation folders, pillow boxes, door hangers, and more!